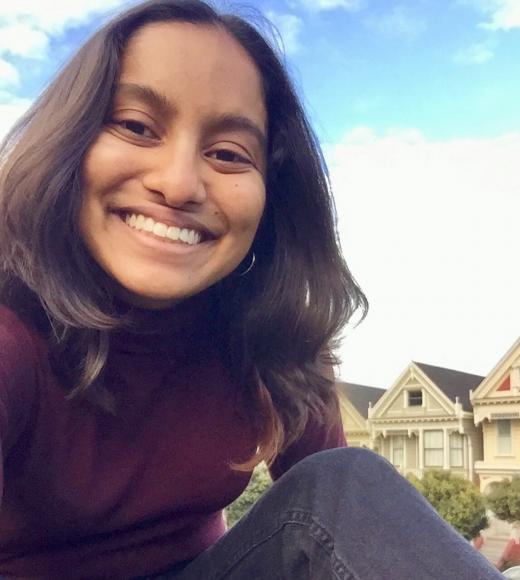 Position Title

GDB Peer Advisor (She/Her)
Bio
Hi! My name is Indira D'Souza and I am a third year GDB major with intended minors in Political Science and Human Rights Studies. I chose GDB because it aligns with my goal to work in public health in the future. Within public health, I am very interested in health disparities as a result of societal and historical inequalities. Women's reproductive healthcare and intersections between health equity, policy, and social justice are areas that I would like to focus on in my career. I feel that Global Disease Biology gives students a strong science background and understanding of the disease process, while the restricted elective courses allow each student to find their "specialty" and learn what they are passionate about!
Outside of classes, I am involved with the University Honors Program and Regents Scholar Society. I am the Vice President of Students for Reproductive Freedom and the Co-Outreach Director of R.I.V.E.R. at UC Davis, organizations which promote health through political action and community education. In addition, I am the Reproductive Health Committee Head at Joan Viteri Memorial Clinic, which provides unbiased healthcare, based on a harm reduction philosophy, to the most vulnerable members of the community. For me, one of the most exciting parts of my college experience is being involved in organizations where I can do meaningful work and make friends at the same time!
Currently, I do developmental psychology research with the Social Environment & Stress Lab, and I am a research trainee at the UC Davis Perinatal Origins of Disparity (POD) Center. Research opportunities abound at UC Davis, and I would love to share my experience with finding the right lab to fit my interests and my schedule. I am super excited to work with y'all and help you reach your goals within our amazing, interdisciplinary major!