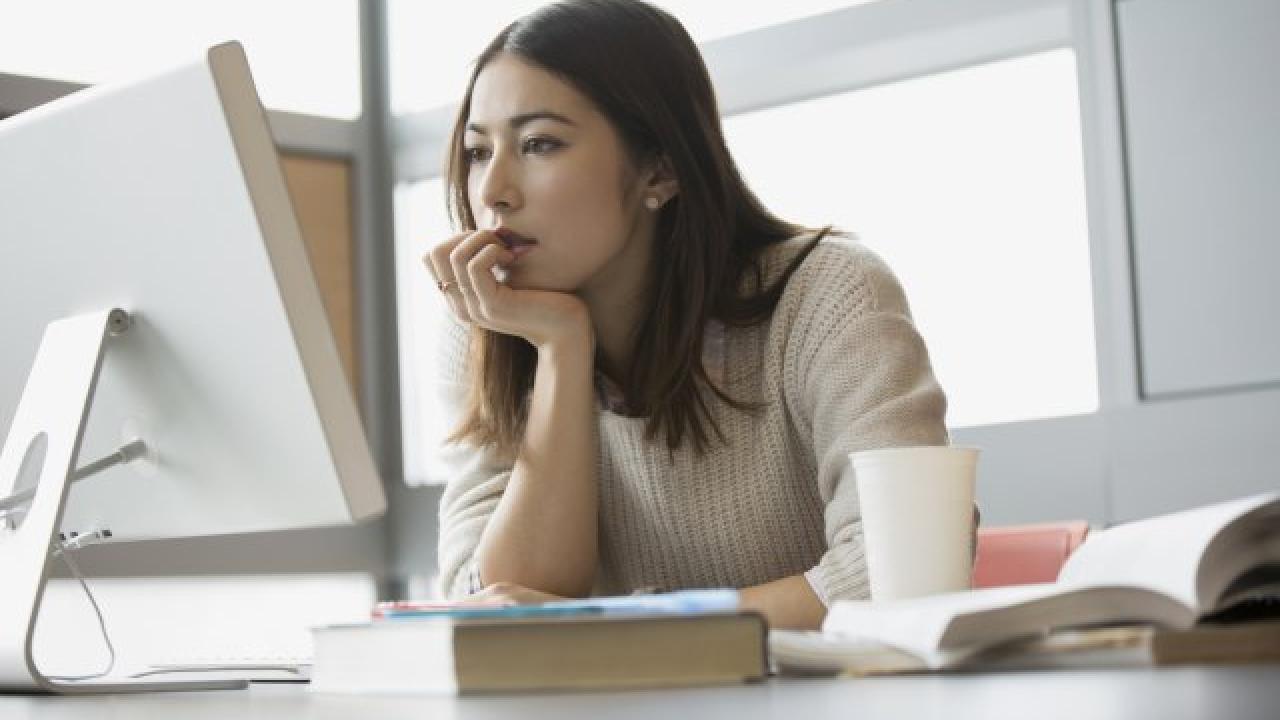 As a GDB student, you are probably wondering what UC Davis research opportunities will look like during the COVID-19 Pandemic. If you are a GDB junior or senior, you might be thinking "How am I going to complete my Practicum Project?" As the pandemic has progressed, virtual and computer-based research opportunities have appeared in many labs around UC Davis. In this post, two of our GDB Peer Advisors will be sharing their experiences doing research from home! 
Indira D'Souza, 2nd Year GDB Student and GDB Peer Advisor:
"I began to work on research with the Social Environment & Stress Lab under developmental psychology professor Dr. Cam Hostinar in January 2020. The other undergraduate research assistants and I were working on data entry for our most recent study, where families with young children were brought into the lab. In March, Cam decided that because the lab was no longer able to host families, we would focus on numerous meta-analyses which the doctoral students would lead. A meta-analysis is one method of searching through scientific literature. It is structured in the style of the scientific method, with an intensive screening procedure and data extraction to answer a specific question and hypothesis. My doctoral student selected a topic: the effect of parenting on child autonomic nervous system functioning. Our team of four research assistants used an online platform called Covidence to begin sorting through thousands of scientific publications containing key words such as "parenting," "autonomic nervous system," "maternal," and "attachment style." Covidence collected all of the related publications from reputable sources. We read the titles and abstracts of each publication and decided if they measured parenting behavior and child nervous system indicators. Two assistants needed to vote "Yes" for a publication to move to the next stage of the analysis. During Spring Quarter, we were able to sort over 800 articles using the title/abstract screening process. The next step of the meta-analysis is to read through the full methodology and data of the publications that made it past the first screening, and evaluate further if they accurately measure child nervous system functioning as a direct result of parenting behaviors. The goal with this project is to go from over a thousand articles to less than one hundred for the final analysis. The data from the final list of publications will be extracted, and our team will write a paper on our findings. I am excited to continue with this research during Fall Quarter!
My summer research project has been a partnership with the Perinatal Origins of Disparity Center at UC Davis. It is a newer center on campus, performing work and research with community organizations focusing on family, child and maternal health. My team of four undergraduate interns has been working on a data mapping project for most of the summer. We have searched and documented extensive amounts of data from local, state, and national agencies surrounding child and family health variables. These include health care access, reproductive health, race/ethnicity, education levels, community services, and data related to COVID-19. In our map (a Google spreadsheet), the gaps in family health data can be visualized. The goal of this project was to come up with possible directions for future community-based research. To get to this step, our team recently presented our data map to representatives from Yolo County community organizations. These representatives will be involved in scheduling focus groups involving their organizations, the community members they serve, and our center. They also gave us valuable feedback on other data topics to search for, along with additional ways to recruit community members for focus group participation. My next area of participation with this center will be a literature review regarding pregnancy, stress, health, and COVID-19. 
Virtual research is uniquely challenging because it is self-directed. In both of my experiences with virtual research, I have found weekly Zoom meetings with my team to be helpful. As questions arose, it was very important to be able to reach out via email to my team members as well. Staying connected and communicative with a team is one of the most rewarding aspects of the whole experience, and helps keep me on track! I am looking forward to my next virtual research projects."
Hannah Harris, 4th year GDB Student and GDB Peer Advisor:
"I started volunteering in a nutrition lab (TRELLIS Lab) under Dr. Elizabeth Prado in Winter of 2020, before the campus shut down. I was able to receive in-person training for my position in the lab, but then just about 8 weeks later, the lab moved to completely remote operations. The project I am working on for the lab required in-person data collection; we were collecting iron intake data via a questionnaire that the parents filled out as well as memory development data via in-person memory activities & an eye-tracking device from infants. Fortunately, the majority of the data had already been collected prior to the shut down, though we did miss a small portion of data collection, which will be noted in the manual of operations for the study. At this point, we have decided to move onto the next phase of the study, which is to develop a single iron intake variable for each participant. Since we collected the questionnaire data via Qualtrics (an online software), everyone in the lab has access to the iron intake data, even if they are working remotely. My job is to export that data into an excel spreadsheet, and then import that spreadsheet into a software called SAS, which is a common tool that research labs use to analyze the data. Most labs use some kind of statistical software for their data analysis, and sometimes they can be a little challenging to figure out. It was extremely helpful for me to watch some video tutorials on these softwares as I was learning them!
Something else that has been really helpful as I've worked remotely in a lab is to have weekly meetings with someone that is familiar with the lab operations. This could be your PI, a lab manager, a post-doc, or a graduate student that has been working in the lab for a while. A weekly meeting will help you stay on track with your tasks, and it will give you the opportunity to ask questions. Asking questions is going to be something that you'll want to be comfortable with, and you'll want someone in the lab that you can refer to frequently when you do have questions. Although my tasks have been fairly easy to do remotely, I usually keep a "Questions" page in my lab notebook where I write down all of my questions that I have as I work through my lab tasks for the week, and then I bring them up in my weekly meeting with the lab manager. If I have a question about my tasks that needs to be answered before I can move forward, I will email my question to the lab manager and CC the PI of the lab, and then I'll start working on a different task until I hear back from them. 
Since the TRELLIS lab has gone remote, we have only met as a complete lab (all members) only a couple of times. We are all working fairly independently compared to when we had an in-person lab space. Also, our projects are now moving a bit slower due to the fact that we are all in different time zones, we are not meeting as a group as frequently, and it has been taking a bit longer to get more difficult, procedural questions answered. 
Ultimately, conducting remote research is still extremely important and effective, even though it presents some challenges for all members of the lab. It has been important for me to remember to have patience with myself and with my fellow lab members as everyone is still adjusting to this new virtual setting. I was not expected to know how to do everything the minute I signed up for the position, and there was no shame whatsoever in me asking too many questions as opposed to too little. Consistent communication with other members of the lab has been critical for us in the TRELLIS lab as we've gone remote; simply checking in with each other, either over email or Zoom, has kept all of us on the same page and moving forward with our projects. The hardest part for me has just been getting started! I have felt intimidated and/or overwhelmed by my tasks at times, especially since I knew I would be trying to complete them by myself at home. But I have found that by getting more familiar with the different softwares my lab uses, doing a few small tasks that I know I can do, and then asking a lot of questions, I have gained greater confidence in my ability to succeed in conducting research remotely."